Envy

Envy

Sin

Gender

Female

Motives

To live

Hair Color

Brown

Status

Deceased

First Comic
When the Sins received their Golem bodies, Envy created his body as an attractive woman, who became a celebrity that everyone was envious of or desired.
Role in Plot
Edit
Envy and
Gluttony
went to
Murdoch
to live with him, and to get new bodies. While living with Murdoch, Envy posed as Murdoch's wife, with Gluttony being their child. Envy and Murdoch shared a semi-faux romantic relationship. They slept in the same bed and have kissed.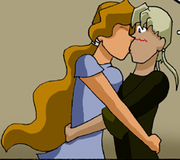 Envy left a fake runaway letter to prove to Murdoch that he cared.
The Golem was destroyed by the Lust golem while Murdoch took part in a necromancer contest. The Lust golem assimilated the life force of the Desire golem.
Ad blocker interference detected!
Wikia is a free-to-use site that makes money from advertising. We have a modified experience for viewers using ad blockers

Wikia is not accessible if you've made further modifications. Remove the custom ad blocker rule(s) and the page will load as expected.